Introduction of Solar roof fans
Solar Roof Ventilation and Attic Ventilation introduction: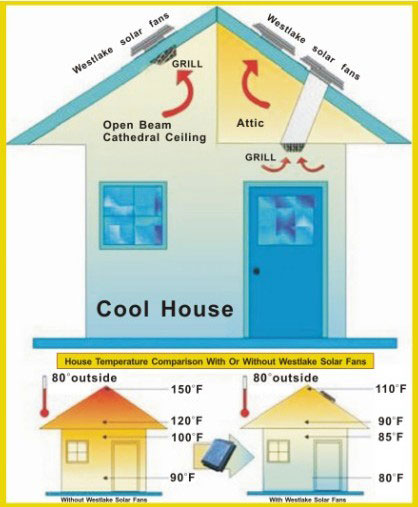 Powerful home heat extraction and roof space ventilation without electricity bills or carbon emissions!
Solar Powered Exhaust Fan - No Running cost -Increased comfort -Hundreds of dollars in savings!
Reduce Air Conditioning and Cooling costs.
Westlake solar making the new & exciting Solar roof or attic fans! The Solar roof or attic fan is a powerful solar powered heat extraction fan that operates completely off the grid and is ideal for solar roof or attic ventilation.
Most commonly, Solar roof or attic fan is used to remove hot air from the roof space, however it may also be used for removing heat directly from the interior of the building. A Solar roof or attic fan will also protect the roof structure and help prevent mould and mildew. Eliminating the heat build up in your roof space reduces the heat load on your ceiling, and stops heat from penetrating into your living space. This results in lower internal temperatures and could save you hundreds of dollars in reduced cooling cost while at the same time increasing the comfort. Solar roof or attic fan can be used for a wide range of applications including – Homes, Sheds, Offices, Factories, Schools, Nursing homes, holiday accommodations, beach house, cabins, caravans & many more!
The Solar roof or attic fan is a new Solar Powered Heat Extraction Fan, which could save you many hundred dollars every year, by reducing the temperature in your roof space thereby reducing the heat load on the whole building.
Comfortable Indoor Climate & Environment
Roof temperatures throughout most of the world often reach 60 degrees (C) – 70 degrees (C) in the summer months. These high temperatures will – even with good insulation – eventually radiate heat down through the ceiling and increase the internal temperature.
The Solar roof or attic fan cools your roof space by replacing the hot air with cooler air pulled in through vents under the eaves or other openings to the roof space. This normally enables you to maintain roof temperatures only a few degrees above the ambient temperature.
Solar roof or attic fan from Westlake is affordable, whisper quiet, and a product that would benefit any home or indoor work environment. A class leader in performance and a class manufacture – Solar roof or attic fan is revolutionizing roof ventilation & heat extraction. Check out our brochures for more information!
Leading energy efficiency consultants Ecomaster highlight the importance of roof ventilation for energy efficiency and comfort in summer as well as in winter, when adequate roof ventilation ensures the effectiveness of insulation, helps prevent condensation in the house – and mould or mildew on walls, in cupboards and on ceilings.
Reduce Air Conditioning and Cooling costs in your home today!
Roof Space Ventilation, Home Heat Extraction, Home Cooling and lots more…
Todays Home Ventilation Tip : Having a roof space ventilation system to extract heat and humidity can result in a much more comfortable environment all around the house.